---
MEEKO
---
Overview
Meeko started out as a project to address the lack of precedent for social media behavior and from a dream to cultivate a healthy learning environment online for children and teens aged 11–17.
My Roles
Design Research | Brand Development | Copy | Product Video
Team
Mallory Blackwell
Design Research | App UX | App UI | Copy
Isa Armstrong
Design Research | Web UX | Web UI
Maria Rodriguez
Design Research | Web UX | Web UI
Karsen Jones
Design Research | App UX | Extension | 3D Environment
Accolades
Communication Design Exit Review
—Local 2022
Design for Greater Good Award
AAF
—San Antonio 2022
Gold | Online/Interactive, Apps
AAF
—San Antonio 2022
Best of Show | Online/Interactive, Apps
Undergraduate Design Research Conference
— Texas State 2023

SXSW Innovation Lab
—Austin 2023
Mission

Meeko strives to make the internet a safer and healthier place for children and teens by creating an online environment that is conducive to learning, rather than that of restriction and fear.
Unique Selling Proposition


Meeko is the only extension for parental monitoring that guides and teaches children while interacting with the internet to encourage healthy online behaviors.

Problems for Children (11–17)
Age of Children with Phones
The average age that children get a phone is
12 years old
.
Half
of children aged 10–12 use social media.
Stanford University, 2022

Liberty University, 2022
Information Privacy
Only
46%
of minors know how to change their privacy settings.
Qustodio, 2021
Cyber-bullying
1 in 6
teenagers have experienced at least 1 of 6 different forms of
abusive behavior
online:
Namecalling (42%)
False rumors (32%)
Unsolicited explicit images (25%)
Being tracked (21%)
Threats (16%)
Having personal photos leaked (7%)
Pew Research Center, 2018
Online Predators
40% of kids in grades 4–8
reported they connected or chatted online with a
stranger
. Of those 40 percent:
53% revealed their phone number to a stranger
21% spoke by phone with a stranger
15% tried to meet with a stranger

11% met a stranger in their own home, the stranger's home, a park, mall or restaurant

30% texted a stranger from their phone
6% revealed their home address to a stranger
The Center for Cyber Safety and Education, 2019
Problems for Parents and Guardians
Efficacy of Current Systems
9 in 10 teens say their parents have talked to them about online safety. However, nearly half (49%) of teens claim their parents do nothing to monitor their devices.
Cox Communications, 2019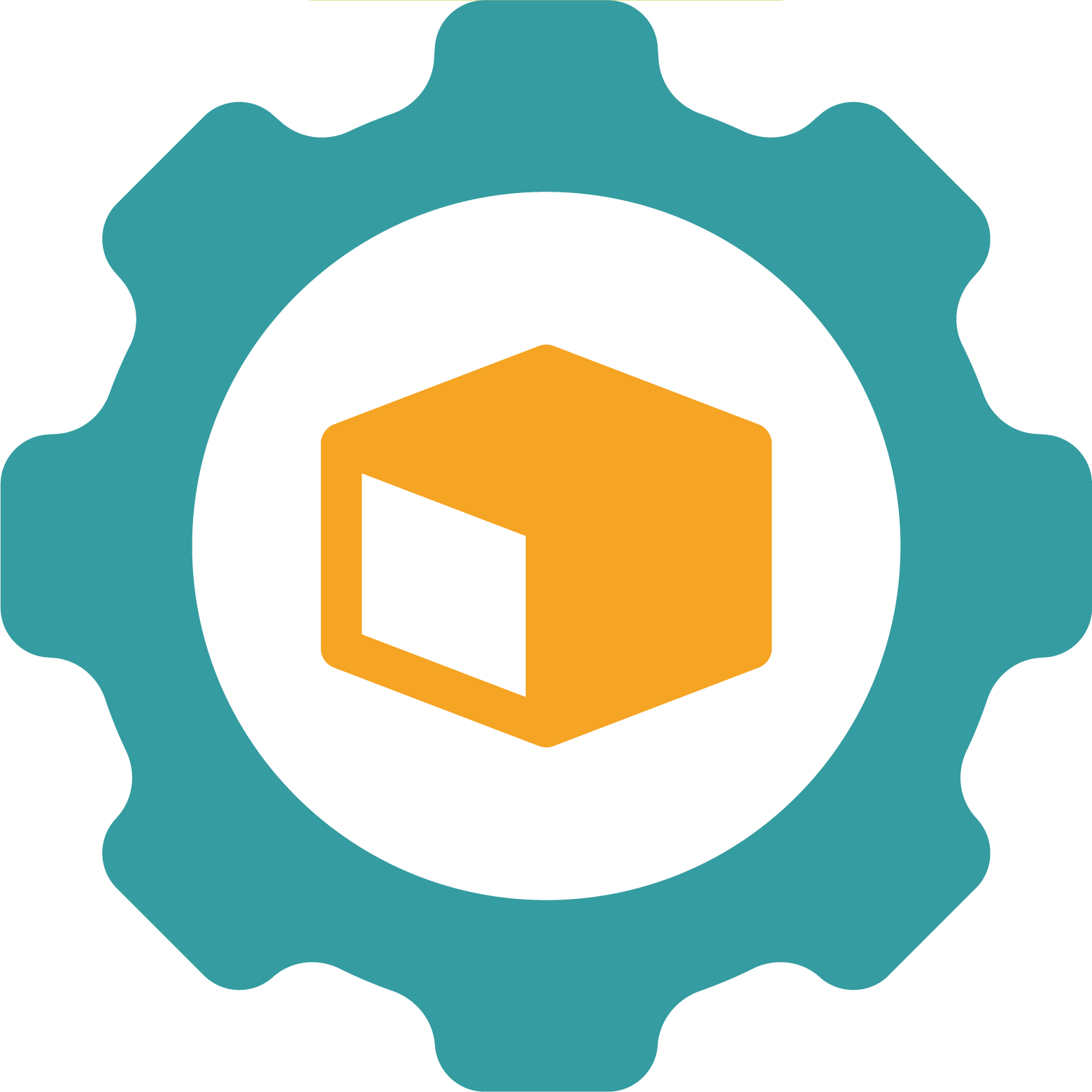 Parental Controls
39% of parents report using parental controls for blocking, filtering or monitoring their teen's online activities.
Enough.org, 2023
Access to Information

Just 28% of parents have installed software on computers to prohibit certain website visitation; only 17% have such software on mobile devices, and just 15% on gaming consoles.
Cox Communications, 2019
Time Kids Spend on Devices

On average, teens spend 5 hours and 38 minutes online every day.
The Futures Company, 2020



Competitive Analysis


User Personas
Bio
Jackie is a busy mom of 3 whose oldest is just going into 6th grade. She's worried to expose her children to all the negative aspects of social media and she simply doesn't have time to sit down and monitor every minute that her kids are on their devices.
Goals
To teach her children discipline when learning social media

To be open with her children about pros and cons of social media

To be present in her children's lives
Frustrations
Though she splits time with her husband, she feels she doesn't have time to teach digital literacy to the point where she would feel comfortable letting her kids participate
She feels out of the loop when it comes to new technolgy trends, despite being active on Facebook
Motivations Personality
Bio
Emily is a high achieving 8th grader who enjoys spending time with her friends. She feels especially left out when her friends spend their time together talking about trends and how they're able to stay connected outside of school through social media.
Goals
Convice her parents that she is ready to be on social media
Keeping up with her friends and the trends on social media
Frustrations
When her mom is constantly looking over her shoulder to make sure she's getting her homework done and not playing games on her school computer.




When she gets caught for playing games instead of doing her homework




Being one of the only kids without social media in her grade



Motivations Personality





Interviews



We knew that this problem was widely faced, so in order to narrow it down and figure out ways that were being used to solve this problem, we interviewed 2 teachers in the public school system: the first, a second year teacher of high school students; the second, a 12th year teacher of high school students.




Restriction

Schools are starting to implement rules for students to keep their phones off and in their backpack until the school day is over.

Usage

Students have a need for mindless distractions and social media apps make it easier and with algorithms to provide a constant stream of content.

Passivity

Students have learned (especially during the pandemic) that there aren't a whole lot of serious/immediate consequences for cyberbullying.



Defining the Tagline


Safe:
Keeping passwords and personal information from people other than parents and guardians
Filtering who follows you
Maintaining strong passwords
Backing up important data
Kind:
Treating people with kindness
Not partaking in bullying
Celebrating differences
Spreading positivity
Aware:
Protecting yourself against malware and viruses
Recognizing potential scams
Recognizing false information
Identifying fake accounts
Meeko:
Spreading internet safety education resources
Asking questions and creating conversations about internet safety
Creating a healthy environment for kids to express themselves and feel included


Defining "Digital Literacy"


Handling different devices and operating systems
Navigating through various online platforms
Understanding how the digital world works
Using technology creatively and innovatively to solve problems
Identifying information within different types of media
Evaluating digital resources critically
Recognizing and handling digital threats
Using digital tools in a safe and ethical way
Creating and sharing information effectively
the ability to use computer and digital technologies effectively


Feature Prioritization


Must have:
Ethos of hints and suggestion
Fully customizable parental controls
Fully customizable parental filtering
Streamlined UI for ease of use
Internet safety education for kids
Age-appropriate language
Could have:
Built in games to foster the learning environment for kids
Chat support system for questions
Alerts about risky sites
Voice controlled virtual assistant
Reminders to be independent from devices (play outside, read a book, do a craft, etc.)
Should have:
Character-based approach to engage kids
Language selection
Location tracking
Profile dashboard
Ability to create multiple profiles per account
A push notification system for alerts
Daily summaries for parents to review
Won't have:
Overly restrictive approach
Won't require a specific phone or hardware
Chat service between parent and child


Brand System




Campaign



In order to spread awareness about this software, Meeko campaigns in large public areas such as malls, airports, city parks, and

This campaign presents an interactive game to get kids excited about having Meeko and introduce them to some internet safety tips.







Storyboard



The story board for the game was mocked up in Spline—a 3-D modeling resource—using 5 frames to make up the journey through the maze.

With more time and resources, the game will be fully interactive and have audio elements to be more engaging and understandable for the young age group.




App


Onboarding
In order to help kids get acquainted with the app, Meeko briefly explains what to expect using age-appropriate terminology. The onboarding only takes 30–60 seconds in order to keep the child's attention and get them excited about exploring the app for themselves.
In the App
The app consists of a customizable environment, daily quests, a past tips dashboard, and some prospective games where the child can earn more rewards for customizing Meeko's environment.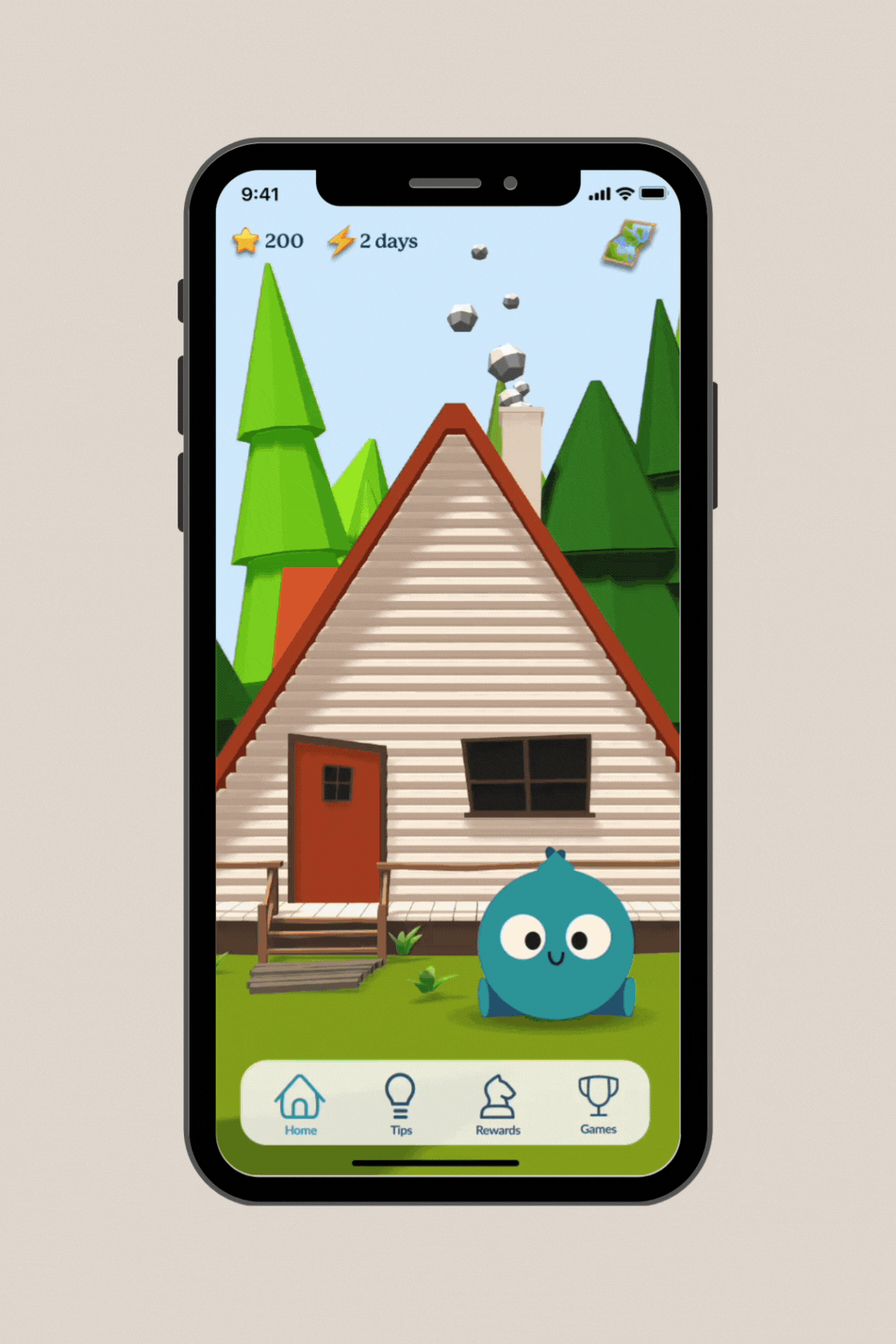 Extension


Visualized on YouTube Kids
Visualized on Instagram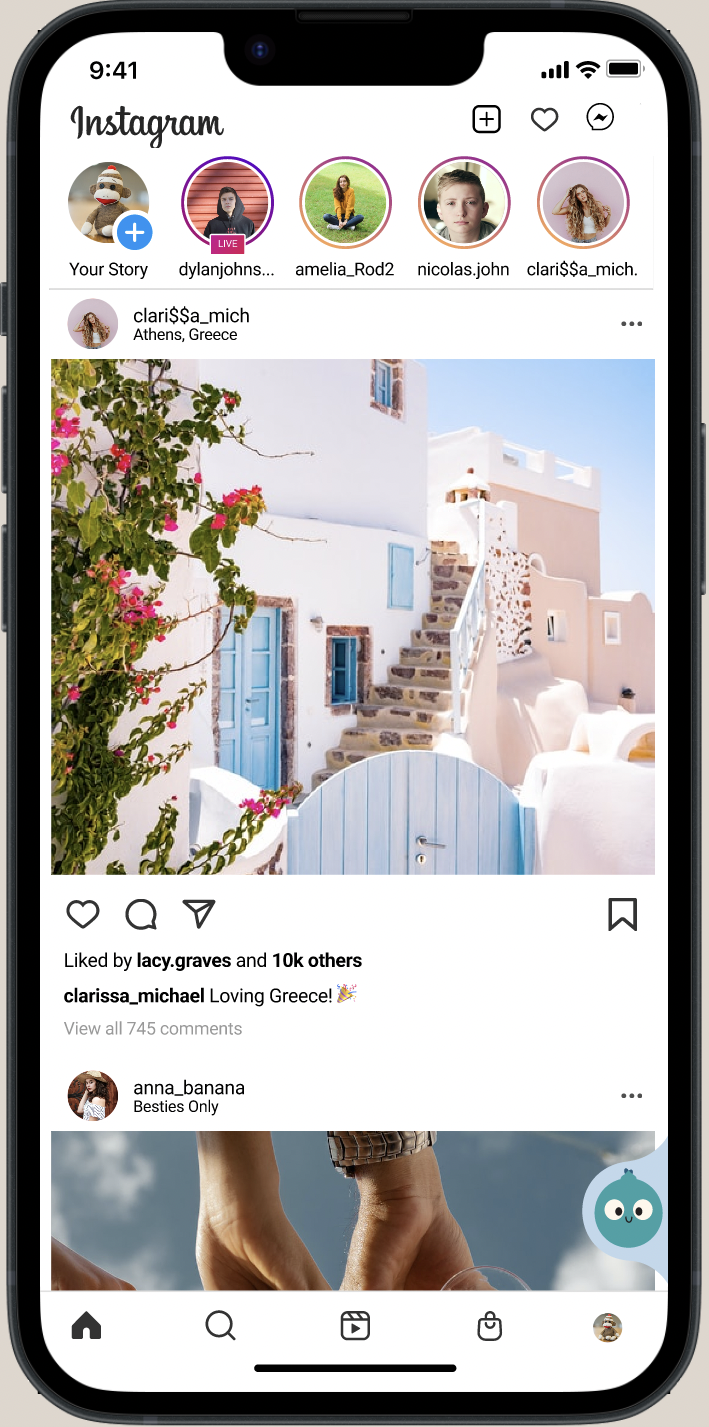 Website




What I learned



The most important aspect of this project was getting the most reliable research to understand the initial problem. We went back and forth about what to include in the final product in order to appeal to the child persona who wants all the freedom in the world and the parent or guardian persona who wants as much restriction as possible. It took a lot of group communication and participation to come up with what we did, and fortunately, we were all so passionate about creating a solution that it worked out to be something we're all really proud of.

With more time and resources, the biggest thing to include would be creating audio for Meeko—a character voice, a chat system, and audio notifications. Another important thing would be to create real games for each lesson (safe, kind, aware, Meeko) and possibly team up with Google's Be Internet Awesome to create an engaging experience. Lastly, our dream is obviously to have this software realized and out in the world helping kids and parents tackle the daunting task of learning and teaching internet literacy.